An overhaul of TV5MONDE's APAC digital assets
Strategy
UX&UI Design
Development
Integration
Mobile App
Silver Award Winner
Their online offerings had been in use for the past 5 years and were due for a facelift. In addition to the dire need for a visual update, their previous system was built on an obsolete platform which was not utilising all the features available to them via their worldwide infrastructure managed from their headquarters in Paris. Finally, they had no control over the content they were making available on their mobile apps.
Client

TV5MONDE Asie-Pacifique

What we did

Strategy, UX&UI Design, Development, Integration, Mobile App

Launched

June 2020
Visit website
The Result
Following a scoping stage, we decided to use Drupal and build a headless platform, where Drupal serves as the data factory (receiving the EPGs via REST APIs from their worldwide infrastructure) and built a web app using Angular, and 2 mobile apps using Angular within the Ionic framework. This set up allows them to fully control the content they publish on all the platforms and feature specific shows to their growing user base. The feedback has been very positive so far, with sales figures steadily increasing across the region.
Rush Hour Digital won a
Silver W3 Award 2020
on TV5 Monde Asie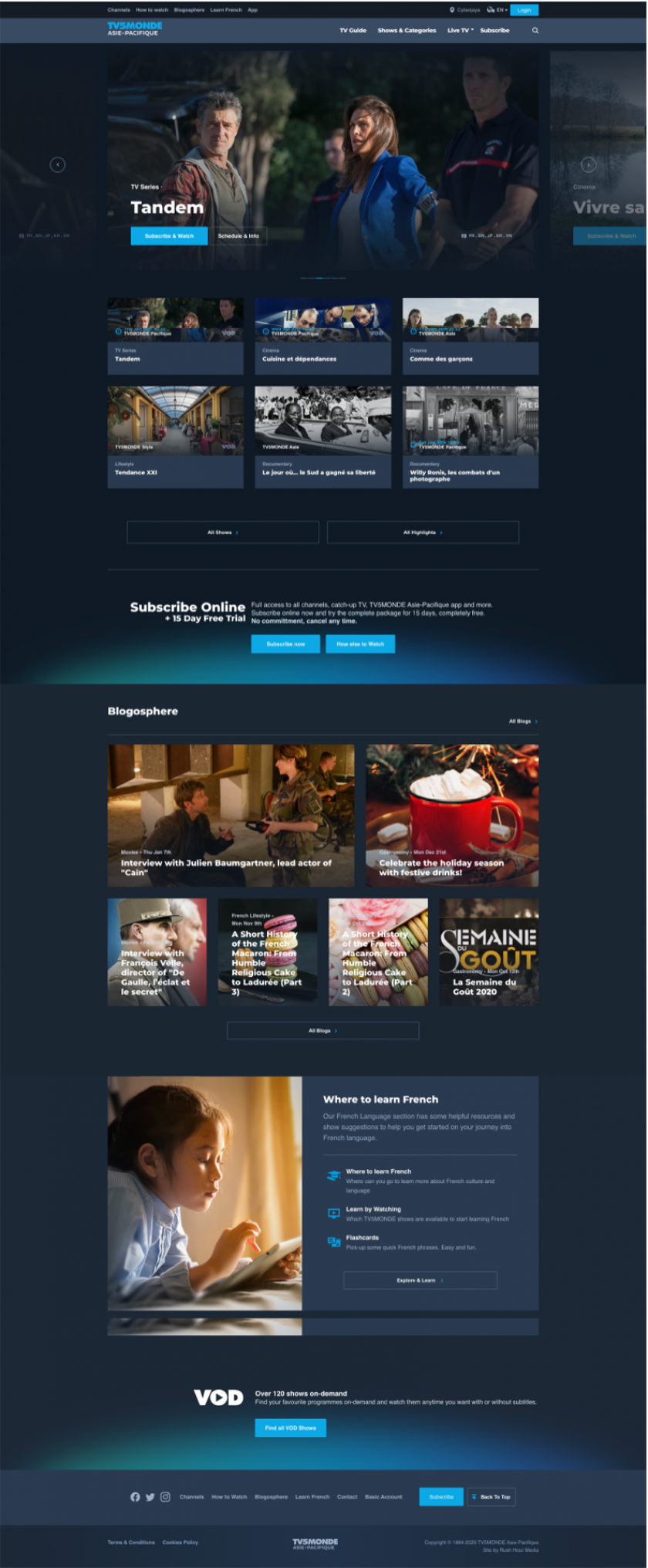 I have been enjoying working with you all, from the beginning of our project to the new Asia-Pacific website testing and delivery. The RHM team is very professional, flexible and understand our requests quickly. Technical sturdiness was a concern, and it has been a relief to see that the new website could be implemented accordingly, in time and within the budget given. The user experience has been improved drastically. The traffic generated to the website is more relevant to the company's goals now, as visitors remain on the website for an extended period and navigate easily through the content available. It is a very positive/meaningful collaboration with the Rush Hour Media team that we intend to be ongoing. The company has decided to go further with some new product developments, and RHM will ensure their technical maintenance. Really appreciated the regular feedback and the willingness to always find the best option for TV5MONDE.
Karine Schroeder
Deputy Managing Director - Head of Marketing & Digital content Asia Pacific, TV5MONDE Asie-Pacifique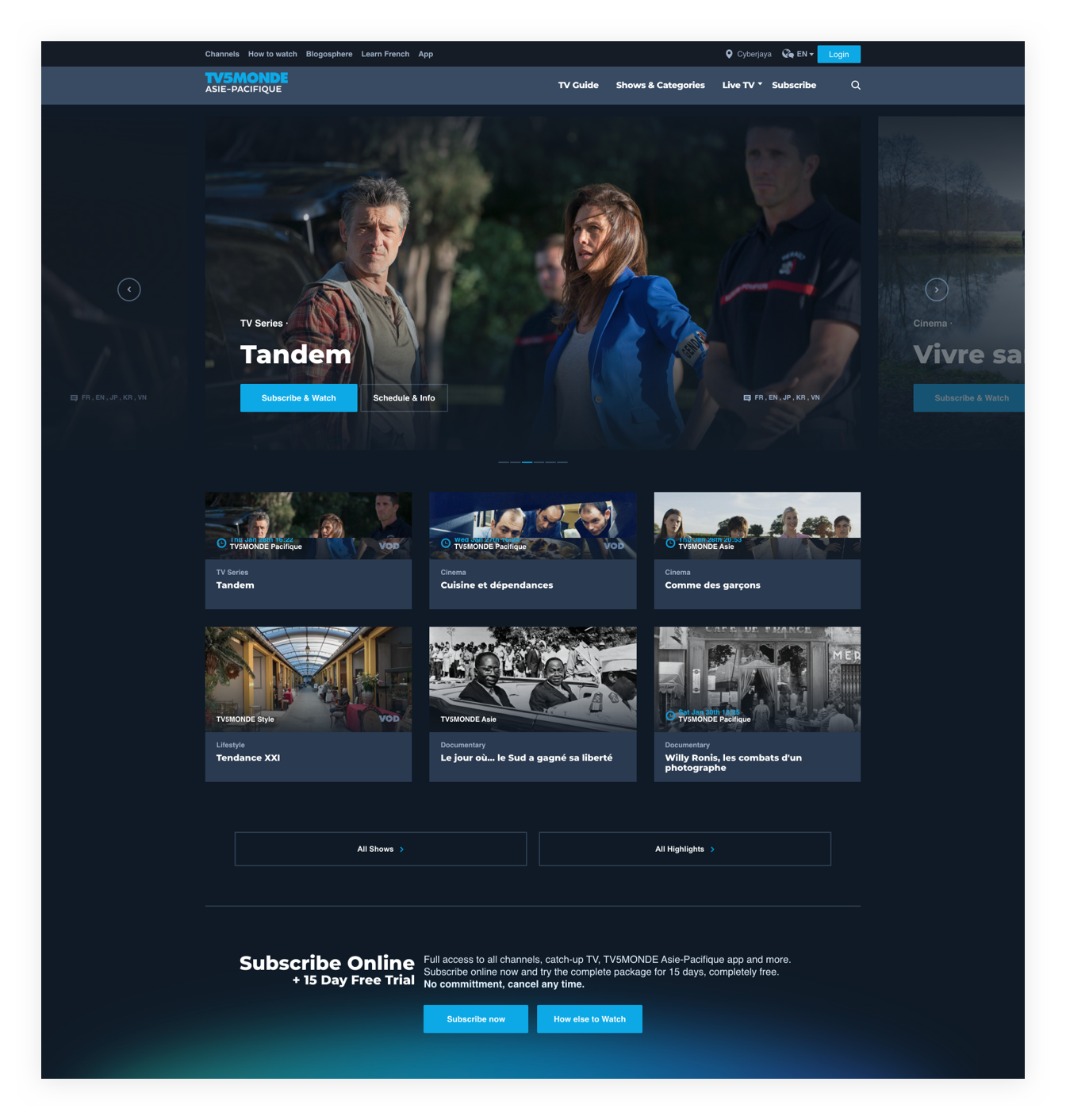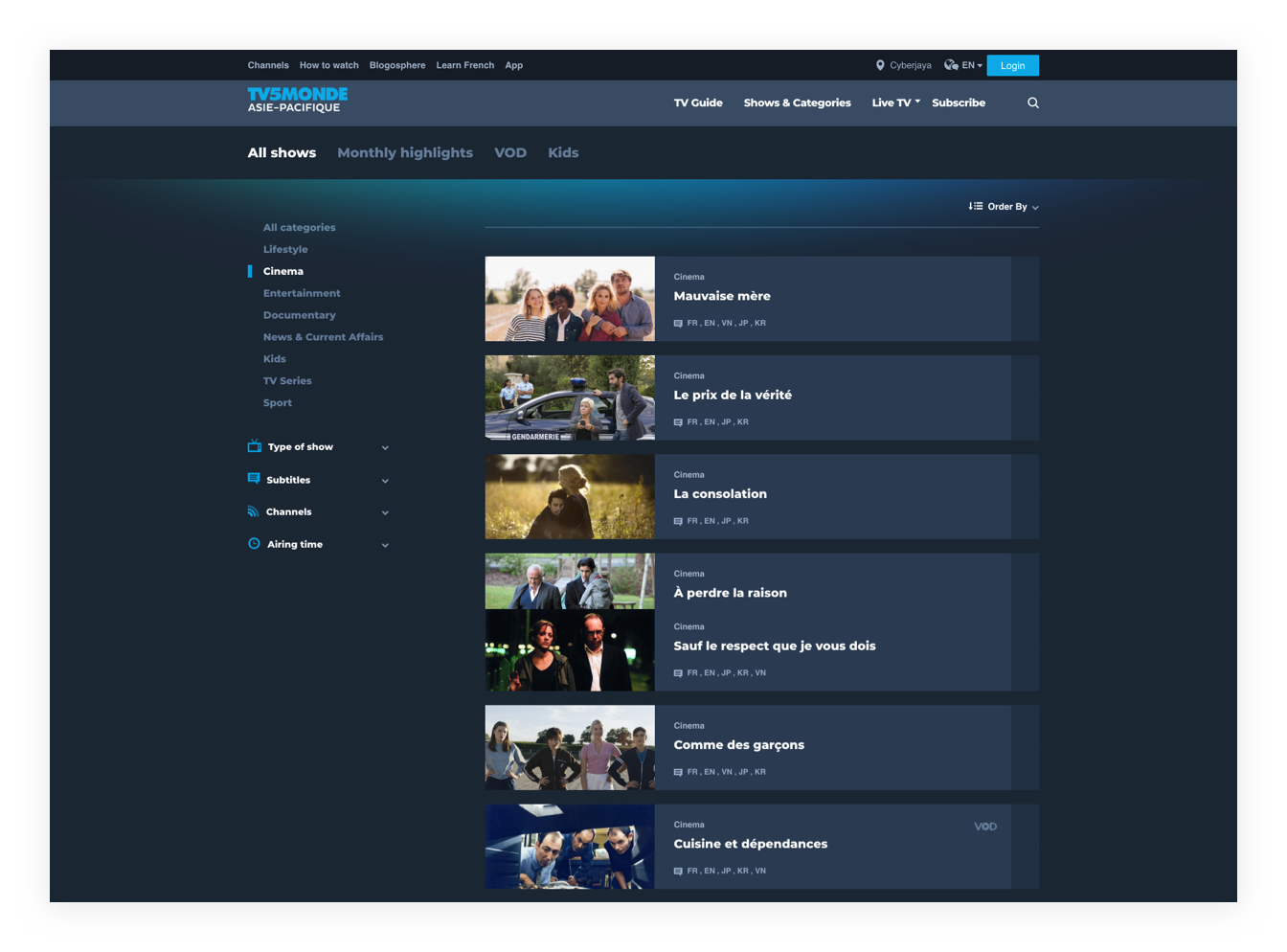 A refreshed, modern look & feel
Using their latest branding guidelines, our UX&UI experts have defined a design system bringing a modern and refreshed look & feel. The continuity of the brand image across the platforms was a key element of this project.
Our UX & UI experts got to work and started with defining the Information Architecture of the platform based on the project key objectives. From there, we created a carefully though through site structure. Using an interactive prototype, we were able to efficiently communicate with TV5 Monde teams to fine tune the wireframes, which allowed us to precisely define the deliverables for the project.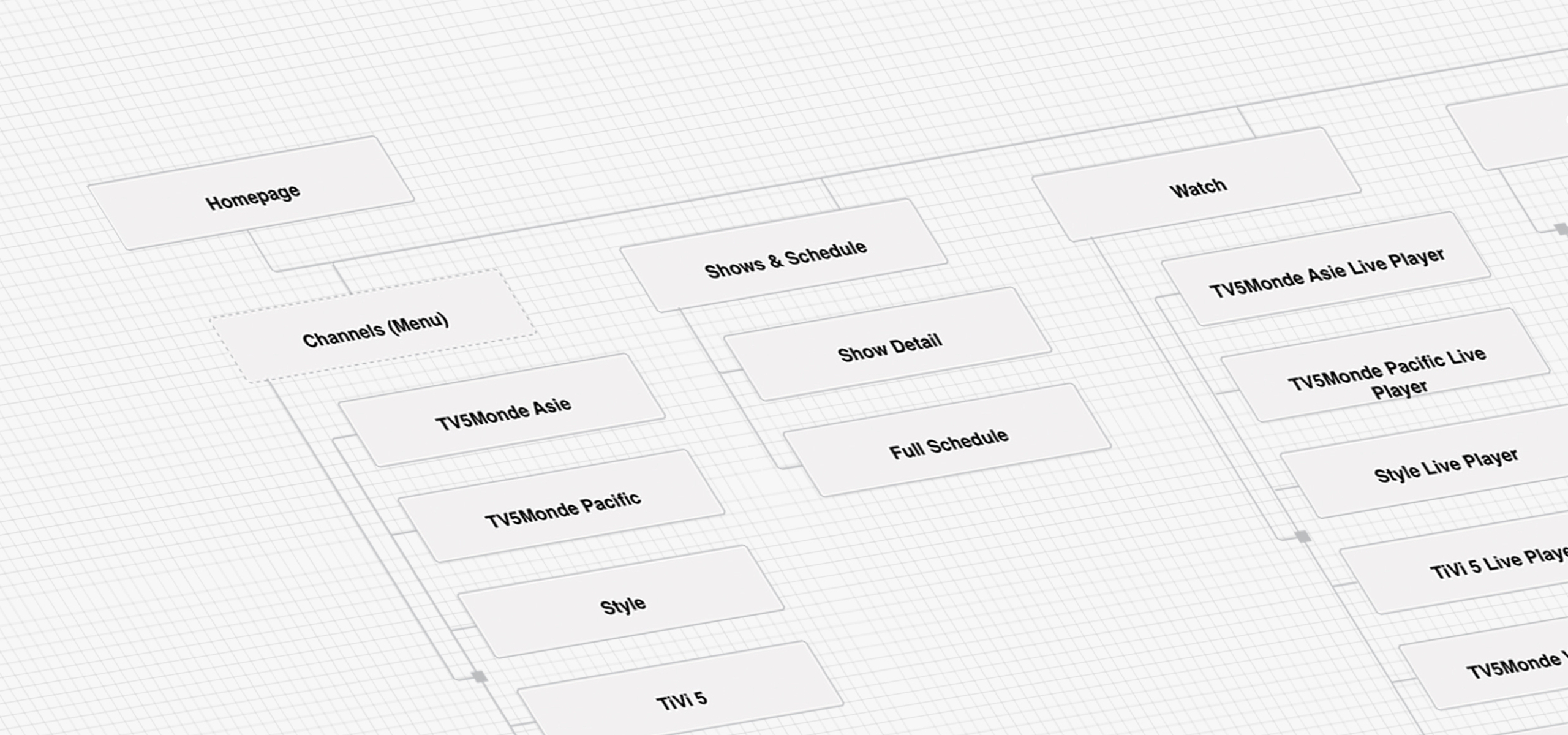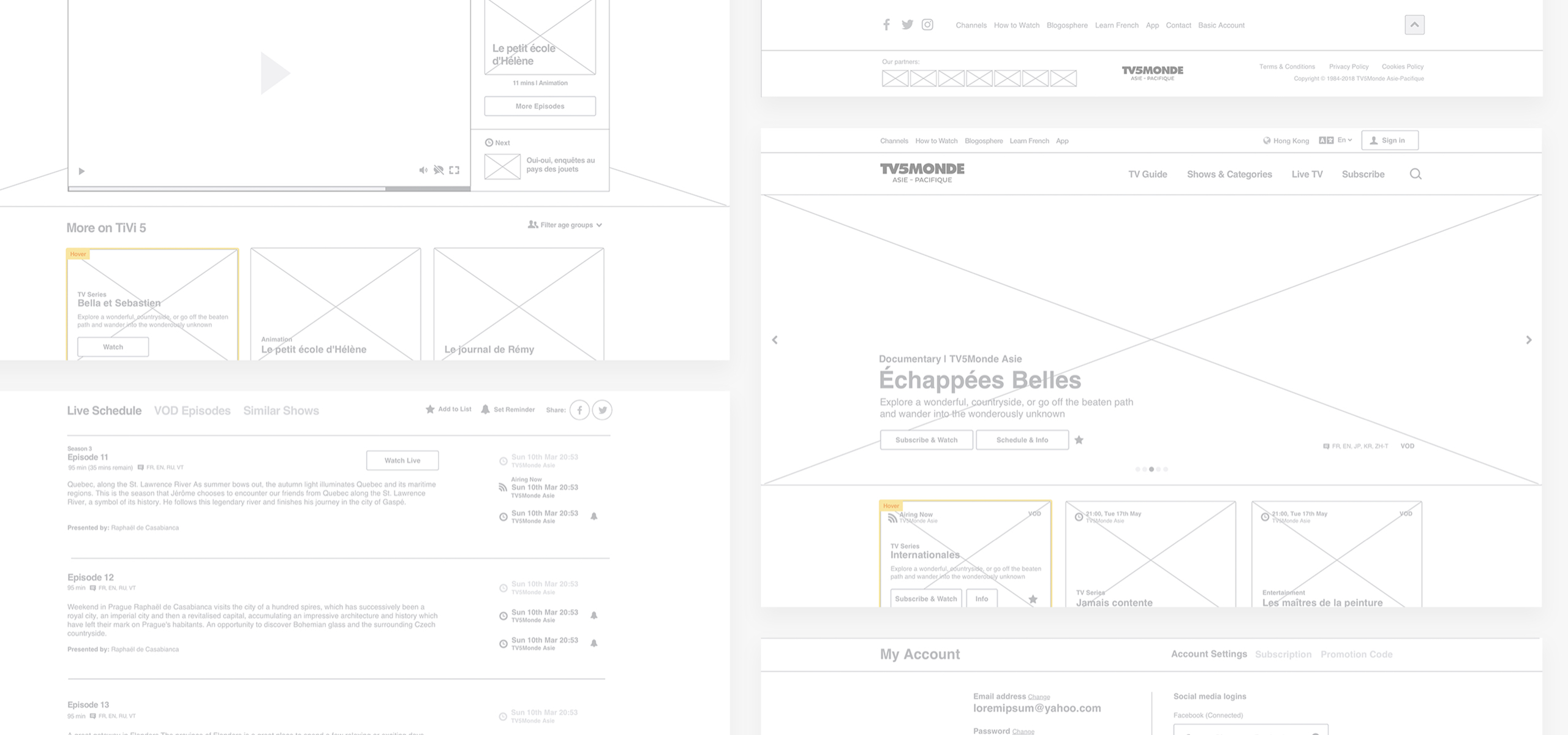 Once we had defined the Information architecture and site structure, we used the branding guidelines to craft a modern UI that conveyed TV5 Monde brand image across multiple platforms. The UI design reflects the company's brand image and is adapted to each specific platform.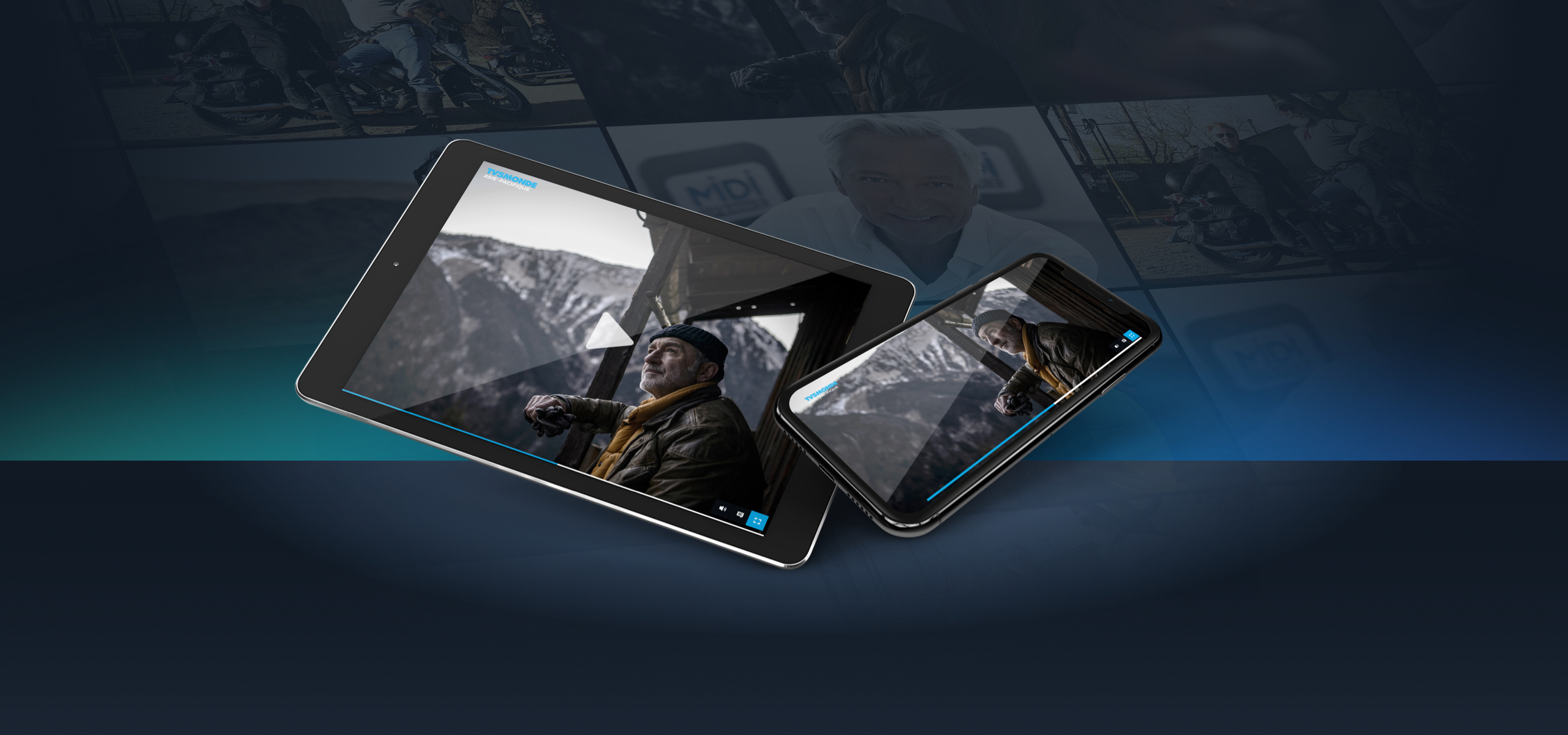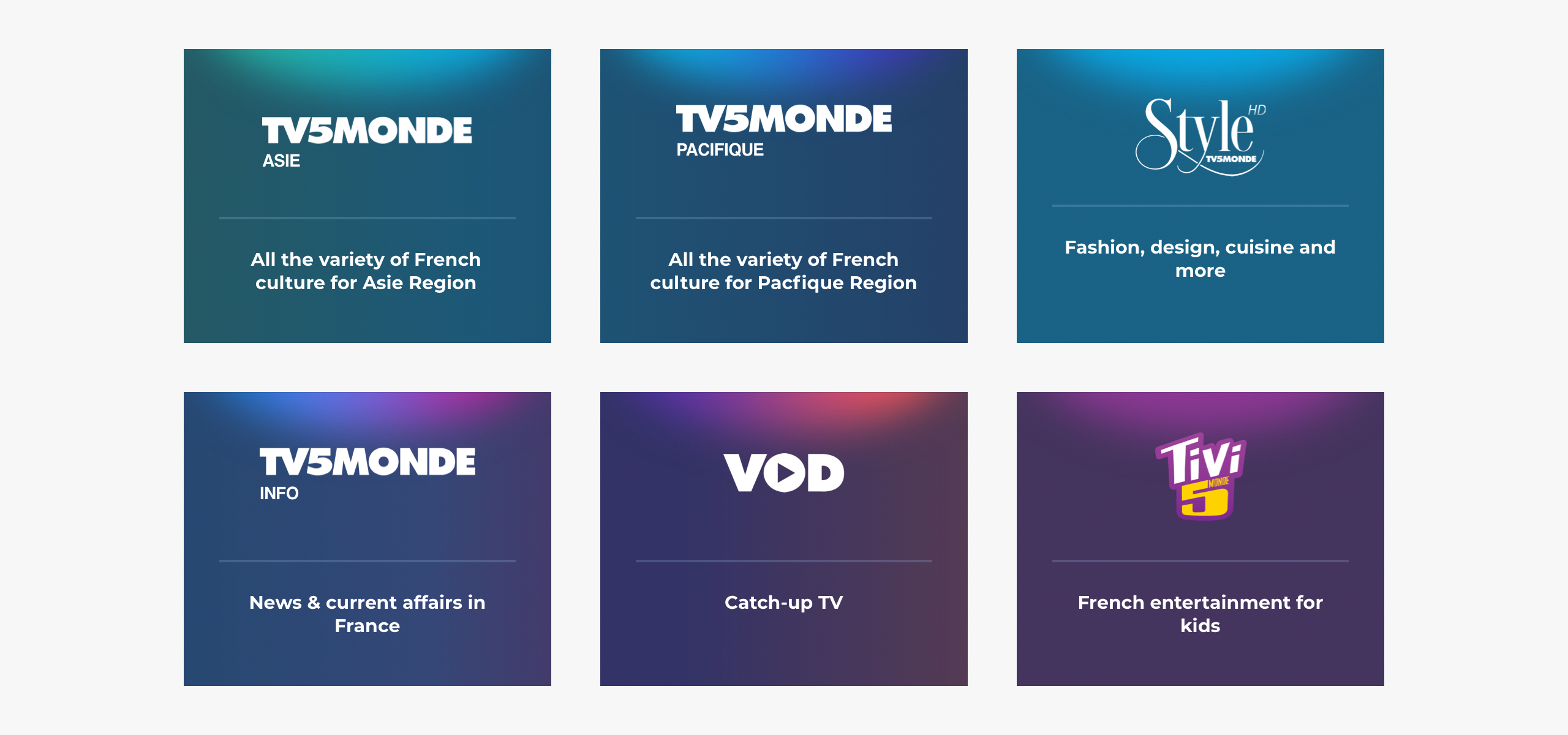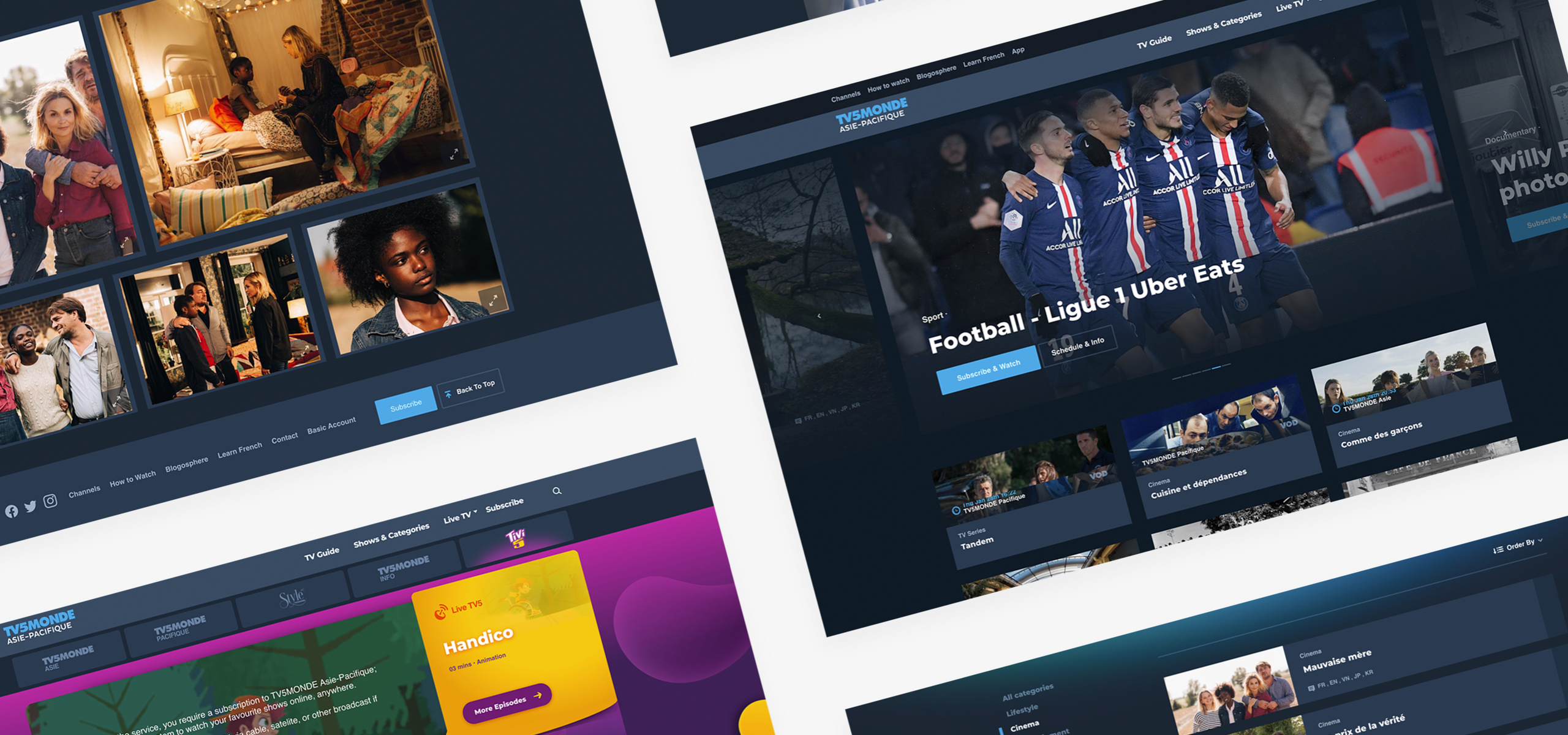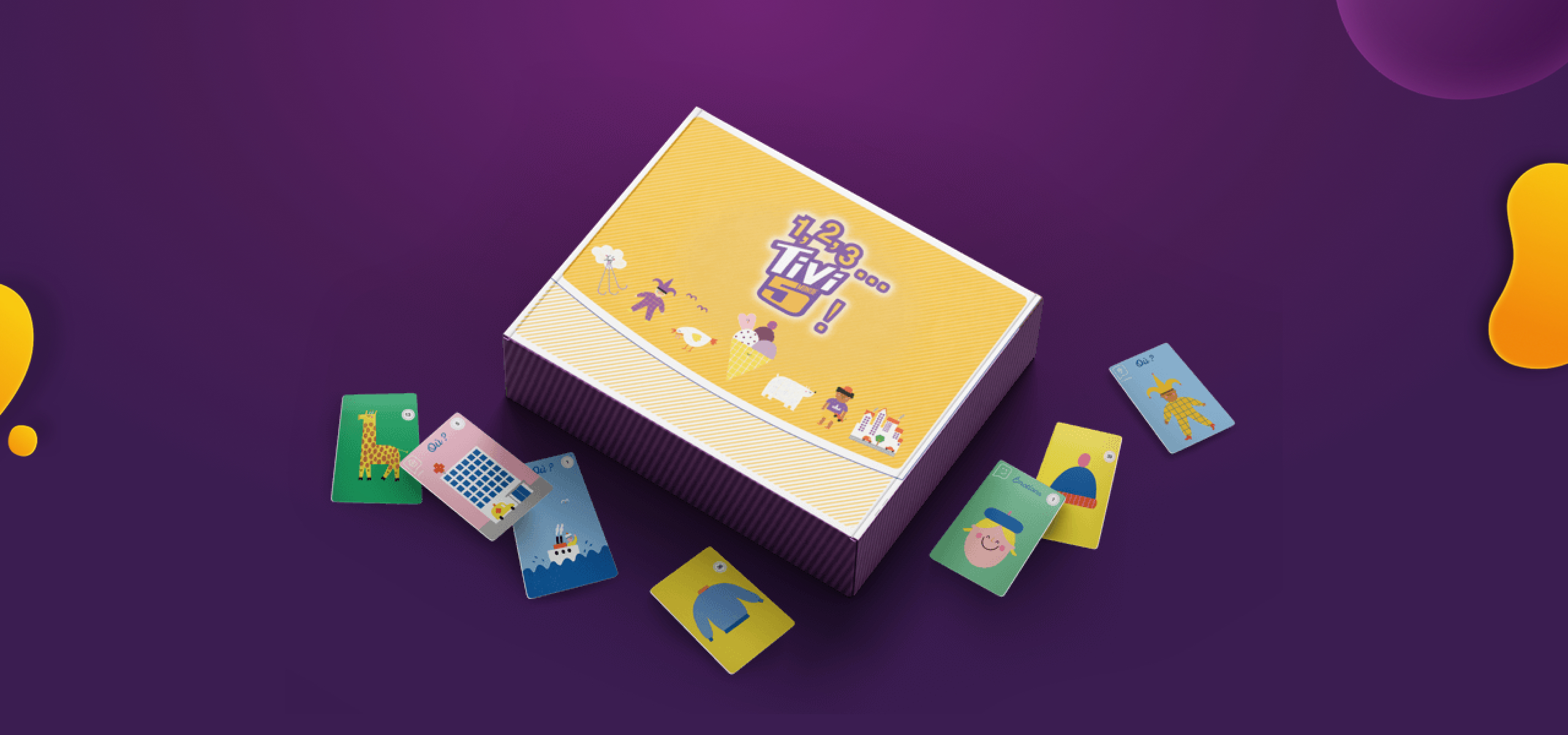 This project focuses on a few major features: Live TV and VOD, TV schedule, and recurring subscriptions.
We opted for a headless approach based on Drupal. In addition to allowing us to use modern front-end frameworks, this approach also empowers our client to manage the content of all platform from a single unified backend interface.
Ensuring the data is accurate, selecting content to be featured, managing user and subscriptions, every aspects of the admin team workflow has been tailored to their needs and is centralised onto one unique backend interface.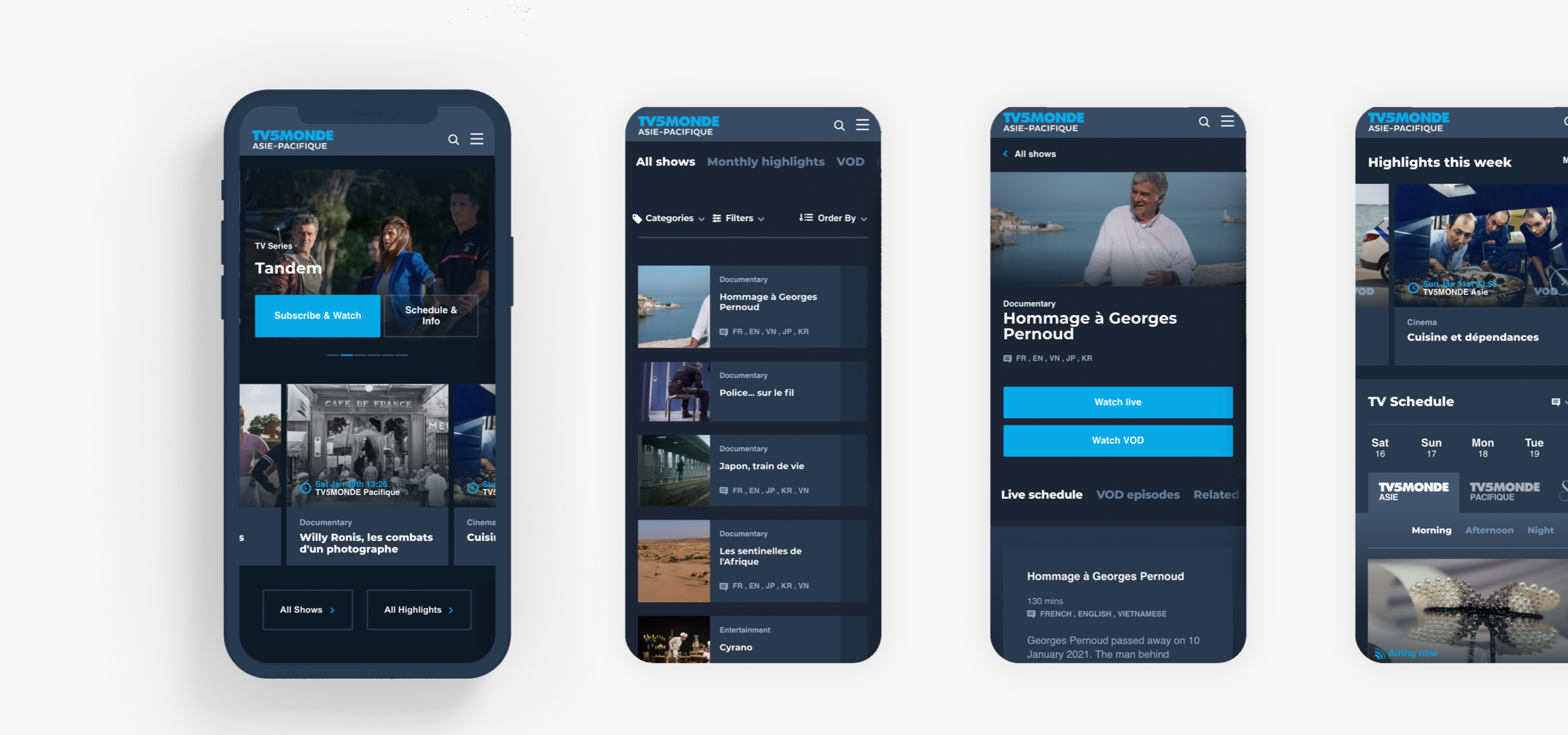 This project includes multiples integrations. Working in collaboration with their Digital teams in Paris, we integrated their internal system into the platform to get the program schedule. In addition to airing times and subtitles information, this integration also provides us with press information about each show.
We also integrated their Content Distribution Network, which provides location data in addition to also distribute the video feeds and managing Digital Rights Management.
The payment gateway we selected is Stripe, as it fits all the requirements in terms of features for this project.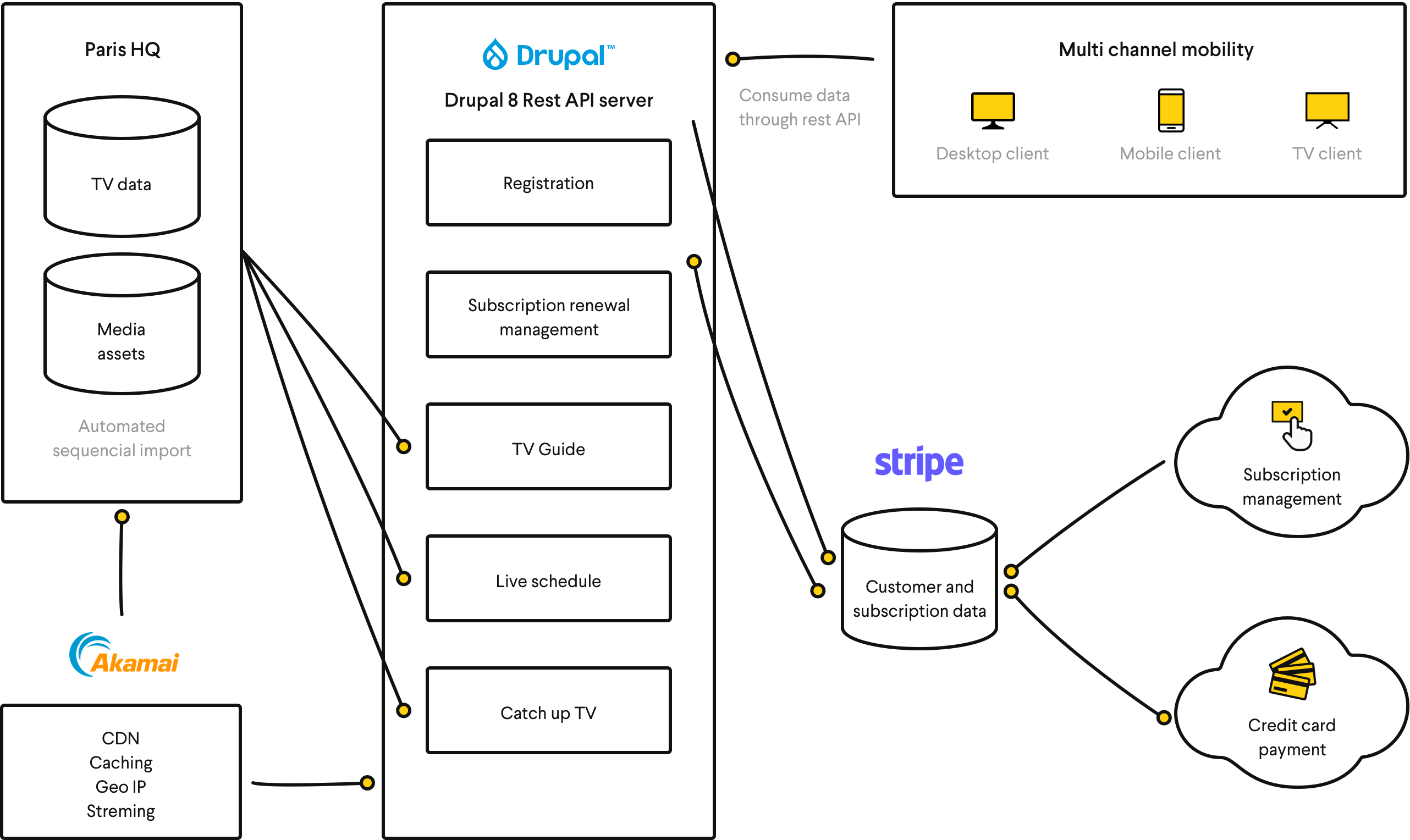 Once we had launched the revamped web platform, we got to work on the iOS and Android mobile apps.
We used Ionic, a tried and tested hybrid framework that allows us to build a single core that can then be turned into 2 apps, iOS and Android. Reusing the webplatform backend interface, the apps provides user with tailored and unified experiences using TV5 Monde services.